CHECK-IN SUNDAY MORNING IN THE GARDEN ROOM
(no reservations anymore!)
Stop by the Family@Grace table in the Garden Room, check in & pickup nametags & parent pickup tag.
Be sure to pickup a fob for easy check-in every week!
The whole family heads to the Sanctuary for 9AM worship
Kids will be dismissed to the front of the church & escorted to worship classrooms. (Parents are welcome to accompany kids)
After worship, parents pickup kids in the classrooms. Please show your pickup tag.
Childcare - 3 months - 36 months
(across from main office)
Cubbies - Ages 3 years - Kinder
(Room 203, 2nd floor)
Seekers - Grades 1-5
(KidZone Room, 2nd floor)
the great gratitude feast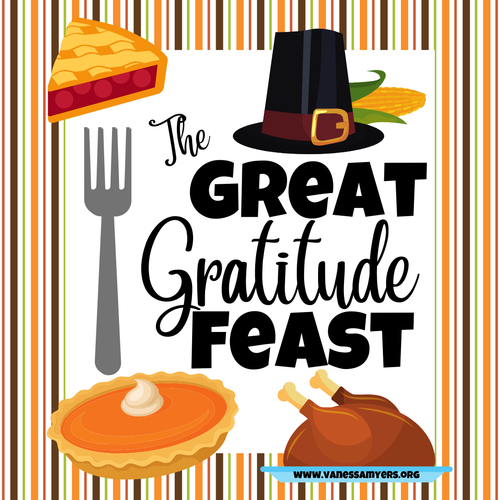 Note to Parents

Spend the month of November helping instill gratitude into your children!
The Great Gratitude Feast involves three challenges each day for families todo together in the month of November: read Scripture, write Scripture, and pile on gratitude. This resource will help your children focus on the Bible as they read 30 verses about thanking and praising God. And it will also help them memorize Scripture as they write it down. Then, your family will be able to pile their plates with gratitude every night as you sit down for dinner. You will spend the month of November feasting on the Word of God!

This resource includes:
Gratitude Scripture Calendar
Gratitude Scripture Writing Sheets
Pile-On Gratitude Challenge
Thanksgiving Dessert Recipe

I hope your family enjoys The Great Gratitude Feast!
We Want To Support Families who choose to worship At Home
Worshiping at Home
: We're so glad you are joining us for Family at Grace online! During this time, we want to give families an opportunity to grow in the Lord together through online worship and family devotions at home. Several resources are provided below. We encourage you to keep our connection strong by coming to church online each week. Monthly family devotions will be available here each month, through our Social Media Pages (Facebook: Family at Grace, Instagram: @familyatgrace), or request a paper copy by emailing Sarah Huck at
sarah@yakimagrace.com
.
Join in the fun on the Family At Grace Facebook page!
Share pics of what you and your family have been up to, so we can continue to stay connected even though we may be apart.
Send your pics to
sarah@yakimagrace.com
.
more worship & lessons for kids at home
Jesus said, "let the little kids come to me!"
We love kids and want all kids to know that they are deeply loved by God! We want every child to know Jesus Christ in a personal way! We want to help prepare kids to discover their uniqueness, spiritual gifted-ness and eventually, God's mission for their lives.

We want kids to experience friendships in community where they can know and be known, love and be loved, celebrate and be celebrated. Life change happens best within relationships, and Small Groups serve as the structure for relationships to develop and grow. It is with the help of dynamic and committed leadership teams that we hope life-long relationships between leaders and kids will be built. We also strongly value and support the role and responsibility of the family in the journey of spiritual development and growth.